Where to eat in Sheffield city centre this Veganuary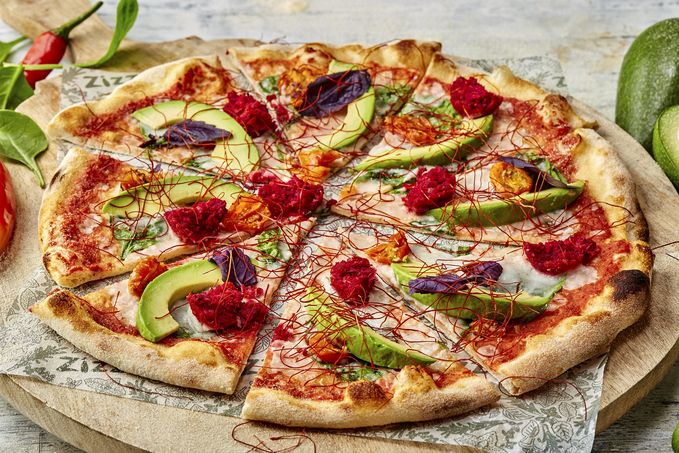 January, the time for resolutions, self-improvement and trying new things. As we enter 2018, Sheffielders will ditch last year's bad habits and replace them with new ones, all in the name of a happier, healthier lifestyle.
For many, a better diet or being kinder to the environment will be on the top of their lists, and as Sheffield gains a name for itself internationally as one of the best cities in the world for vegans, now is the ideal time to try Veganuary – a movement which encourages people to go vegan for the first month of the year.
With more than 100,000 people expected to sign up to Veganuary this year, plenty of national chains and independent eateries are offering fantastic options for vegan diners in Sheffield. Here are just a few the Steel City has to offer. If we've missed your favourite, let us know in the comments!
Shy Boy Cantina at The Great Gatsby
If Mexican is your cuisine of choice then give The Great Gatsby on Division Street a try this Veganuary. With Shy Boy Cantina in charge of the kitchen at the Gatsby expect tacos, burritos and sides, all available as vegan. Our recommendation? The beetroot falafel taco is great!
The Red Deer
Tucked away on Pitt Street just off West Street, The Red Deer is a traditional pub with plenty of vegan options on the menu. From cauliflower wings to start to southern fried tofu, vegan burgers and even a meat and dairy free Sunday roast alongside a couple of vegan beers, the Red Deer is the perfect spot for pub food this Veganuary.
California Fresh
Open till 6pm, California Fresh is a great spot to pick up something homemade, delicious and vegan on the way home from work. With burritos, rice bowls and salads available to customise with your choice of filling, sauces and extras, California Fresh has plenty to choose from this Veganuary. Received a Sheffield Gift Card for Christmas? Spend it at California Fresh!
All Bar One
All Bar One on Leopold Street has launched a dedicated Veganuary menu which is only going to be available from 2 January until 28 February, so be quick else you'll miss it! Featuring small plates, main plates, desserts and vegan wines, expect fresh and colourful dishes including Chilli Non Carne Tacos, Rainbow Wrap and Raspberry Sorbet. Enjoy two courses for £10.50 throughout Veganuary.
Zizzi
A firm vegan favourite due to its early commitment to dairy-free mozzarella, Zizzi's two city centre restaurants (The Moor and Leopold Square) have launched the Arcobaleno pizza for January, featuring a rainbow of toppings including pink beetroot, sun blush tomatoes and purple basil. Zizzi's menu also features vegan pasta, salads and two dessert options.
Showroom Cinema
Showroom Cinema's Café Bar is great for vegan diners. With the menu changing seasonally, it's all about warming dishes to get through the colder months during Veganuary. From the Butternut Squash and Chickpea Tagine through to a selection of small plates that are great for sharing, if you're heading to the cinema, make sure to pop in for a bite to eat. Received a Sheffield Gift Card for Christmas? Spend it at Showroom Cinema.
Las Iguanas
To celebrate Veganuary, Las Iguanas on Fitzwilliam Street has launched a dedicated veggie and vegan menu featuring Coconut Squash Tacos, the Fiesta Ensalada and a chilli made with sweet potato and butternut squash. With a 241 deal on vegan mains running Sunday – Thursday throughout January, Las Iguanas is the perfect choice for vegan dining if purse strings are tight after Christmas.
Pret a Manger
Having only opened in Sheffield city centre in autumn 2017, Sheffielders may not be aware of the huge vegan selection available from breakfast to tea time at the Fargate restaurant. With hearty coconut porridge and breakfast pots to start the day, baguettes, wraps and flat breads for lunch and a selection of sweet treats and snacks, Pret A Manger is the perfect spot to grab a quick vegan bite.
Wagamama
Another restaurant with a dedicated menu for vegetarian and vegan diners, Wagamama has six main meals, four sides and two desserts available for vegans, they even label which beers and wines are vegan. Expect ramen, noodles, salads, pad thai, sorbet for dessert and a bottle of Lucky Buddha beer to wash it all down.
Common Room
If you thought going vegan was all about eating healthy food, think again! The Common Room on Devonshire Street has used vegan favourite seitan to curate a menu of fried 'chicken', burgers, nachos and more for vegan diners who aren't so keen on the healthy side of veganism. Received a Sheffield Gift Card for Christmas? Spend it at The Common Room!
Cubana
Cubana in Leopold Square is famous for its tapas, and with so many dishes available you're guaranteed to find something you like. The vegetarian selection is much larger than the vegan options, but Cubana's chefs are happy to veganise vegetarian dishes, just ask! Received a Sheffield Gift Card for Christmas? Spend it at Cubana!
ASK Italian
With plenty of vegan options for both adults and kids, ASK Italian on Cambridge Street is a great spot if the whole family is going vegan this January. Choose from starters Tuscan Bean Soup, Dough Balls and Bruschetta, a create your own pizza with dairy-free mozzarella, four pastas and for dessert, sorbet or the Blood Orange and Chocolate Tart.
The Devonshire
Fancy a pie this Veganuary? Then The Devonshire is the spot for you! The Devonshire Street pub's curried squash, okra and cashew nut pie is a true winter warmer. If salads are more your thing, The Devonshire has two great vegan salad options, as well as a seitan burger with vegan cheese. Received a Sheffield Gift Card for Christmas? Spend it at The Devonshire!
Wetherspoons
Cheap, cheerful, and vegan! Wetherspoons now has a great range of breakfast, lunch and tea time options for vegan diners, at the same affordable prices as the rest of the pub chain's food. Choose from Sweet Potato, Chickpea and Spinach curry, Five Bean Chilli, vegan breakfasts and more at all Wetherspoons in Sheffield city centre.
Pizza Express
With vegan pizza, dough balls and bruschetta on offer, Pizza Express is a favourite for Italian loving vegans. Try the Giardinera pizza featuring dairy-free mozzarella, tomato, artichokes, mushrooms and black olives, followed by a raspberry sorbet. Save money on dining out and discover Pizza Express' two for £10 deal, running at all Sheffield city centre locations (The Moor, Devonshire Street and St Paul's Place) on Wednesdays until 7 February.
Pizza Hut
The newly refurbished Pizza Hut on High Street now serves Violife vegan cheese, which can be used on the veggie pizza or as part of a create your own pizza. Pizza Hut's famous salad bar also has plenty of options that re suitable for vegans, if you're really missing meat, treat yourself to bacon bits, surprisingly, they're vegan!
Wrap Chic
New to Devonshire Street, Wrap Chic combines the flavours and dishes of Indian and Mexican cuisine across its menu, including vegan options. For a quick bite when you're in the city centre, try the Soya Amritsari in your choice of bowl, burrito or wrap.