Top 5 vegan spots in Sheffield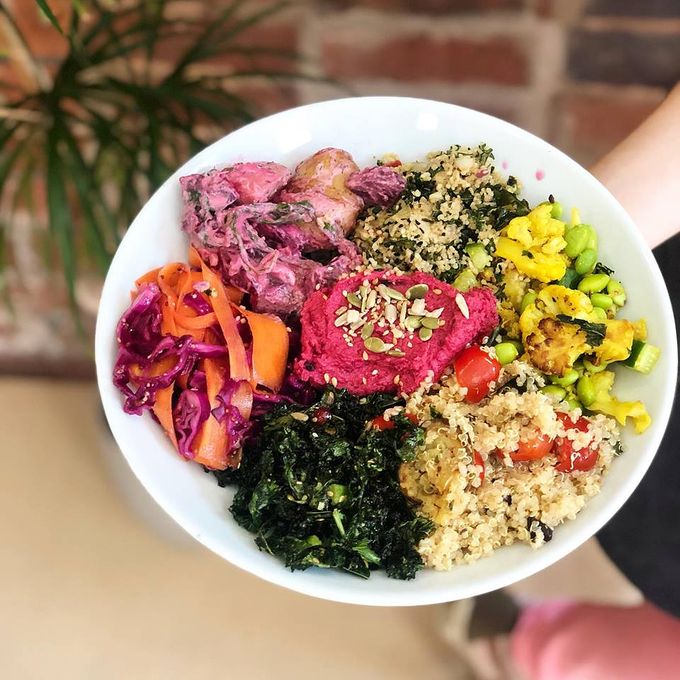 So you're after grub that looks good, tastes good and does good. Well, here in the centre of Sheffield, there are so many places to choose from if you're eating vegan. It's just that sometimes it may be a little difficult choosing which one to go to first. And that's where we come in. Read on to find out our pick of the top five places serving up reyt good vegan food in the city right now.
Birdhouse Tea Bar & Kitchen, Sidney Street
Tucked away in its cosy courtyard, you'll find Birdhouse a haven amongst the metropolis of the city. Not only does it do incredible things with tea (that includes its tea-infused cocktails, tea lattes, iced tea, matchas, and Sheffield-inspired blends), but it also serves up some pretty (in both senses of the word) delicious food. Whether you need the Birdhouse vegan full English after a heavy night, a cheeky smoothie bowl to soothe the soul or a stack of house pancakes, you can only breakfast well at Birdhouse. Did we mention it's open for lunch and after hours too? That means you can also graze on a deli board, handmade PieEyed pie or a selection of puds while sipping on a well-earned glass of vino. Check out its menu to plan your next visit – trust us, you will catch the Birdhouse bug.
The Common Room, Devonshire Street
Just a stone's throw away from Devonshire Green, you'll find plenty to sink your teeth into at The Common Room, whether for lunch, tea or dinner (not forgetting all-important drinks). With dirty fries, nachos, seitan burgers, sarnies and 'Mockin' Bird' options, as well as the ability to make loads of dishes vegan, the sports bar on one of the city's most bustling streets needs to be on your list!
Humpit Hummus, Orchard Square
Another recent addition to Sheffield's food scene, you'll find Humpit on your way in to the city centre, on Leopold street. Walk through its door and you'll be taken to hummus heaven. Choose from the Humpit classic: a bowl of hummus with whole chickpeas, parsley, olive oil, paprika, mixed pickles and a fresh pita, a filled pita, or salad bow filled with your choice of fresh salads, falafel – all the good stuff. Wash it all down with freshly-made lemonades, juices, or hot or cold teas. Plain. Good. Grub. And at a decent price too!
The Red Deer, Pitt Street
Donned with beautiful street art by Frau Isa, The Red Deer is your traditional cosy pub, perched on the cusp of the hustle and bustle of West street. Here you'll find plenty of opportunity to fill your boots with tasty vegan treats. With vegan ales available as well as loads of plant-based dishes, stop here for a well-earned hour or two.
The Great Gatsby, Division Street
As current residents at the bar's kitchen, Shy Boy Cantina serves up the very best in Mexican-inspired street food dishes. And did we mention it's got a bangin' vegan menu? Have yourself a jerk cauliflower and mango salsa taco, or maybe you're feeling fancy? Go for a BBQ oyster mushroom burrito (which are two for £10 Monday to Friday, 12-4pm) – there are plenty of different options to choose from. While you're there, you'd might as well pick up a cheeky cocktail too – they're also two for £10 Monday to Thursday, 12-10pm. Treat yourself.
Don't forget! Use #SheffAfter5 to stay in the loop on all things happening in your city centre after 5pm.