The Wick at Both Ends to launch new menu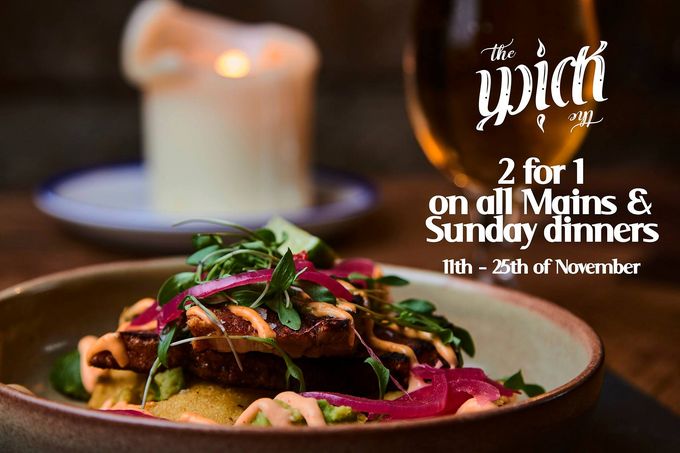 The Wick at Both Ends on West Street is launching a new menu, and is giving away free samples to celebrate.
From 6pm on Friday 10 November the bar will be offering free tasters of its new dishes, alongside prosecco on arrival and drinks deals throughout the night. It's not just Friday that the Wick is celebrating all things new, from 11 – 25 November all main dishes and Sunday lunches are two for one, hooray!
Full details of the new menu will be revealed on the night, but we do know that it is inspired by classic pub gourmet dishes and recipes, constitutes of the perfect comfort food with delicate modern twists and incorporates worldwide cuisines as well as British favourites. The pub has upped its game when it comes to vegetarian and vegan options, with vegan Thai curry, cauliflower tacos, and roasted sprouts and polenta all featuring on the new menu.
The Wick at Both Ends is perfectly placed for unwinding after work. Instead of jumping on the tram home at West Street, pop in and enjoy some inner-city cosiness. From 4pm – 9pm on weeknights the pub offers large glasses of wine for the price of a small, double house spirits for the price of single and on selected ales, a pint will put you back just £2.60. On Fridays, things get fizzy, with half price bottles of prosecco from 4pm.
If you're heading to The Wick At Both Ends' menu launch, let us know what you think by using #SheffAfter5 on Instagram and Twitter. For more dining news and special offers, head to Alive After 5's food and drink section.