The Birdhouse Pudding Club craze that's taking Sheffield by storm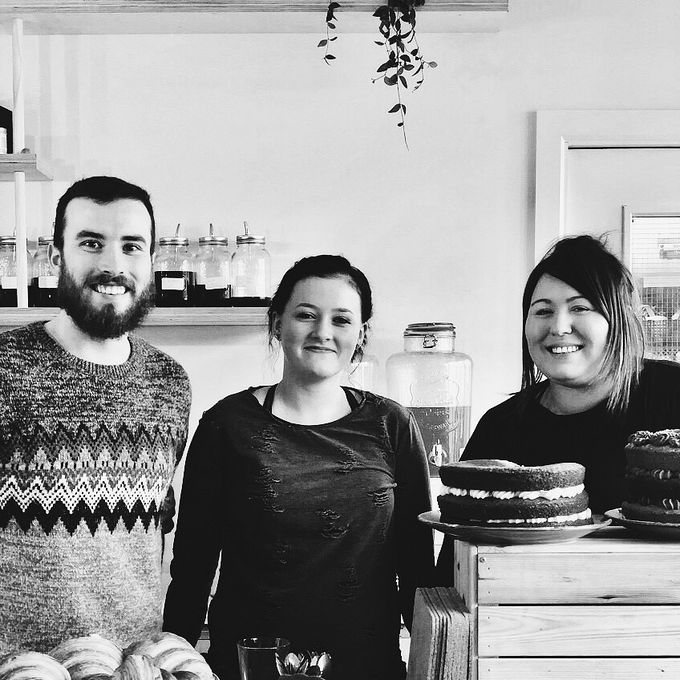 On Birdhouse Tea Bar and Kitchen's 3-month birthday (woo!), we popped in to chat all things pudding club, and what's in store for the next instalment of the pudding-lover's dream evening; pudding, booze and/or a great brew!
Co-owner Rebecca English had been wanting to open Birdhouse Tea Bar and Kitchen for about ten years. After studying tea and blending from home, the Birdhouse Tea Company as a tea brand was born five years ago, before she opened a tea shop in Nether Edge.
"Even though I knew that tea was a big deal, loose tea - exciting tea, wasn't really taking off. People were still drinking Yorkshire Tea, which was frustrating", she said.
Opening up shop in the city centre at a time when people are becoming ever more conscious of the use of plastic in products, Birdhouse couldn't have been better placed for meeting these plastic-free needs.
"So many loyal customers that have followed us from Nether Edge, every lunch time, every table full – it's brilliant."
In response to this heightened awareness, Rebecca said: "We can just say well, we've been doing it for years! In our Nether Edge shop people can take their own jars to fill up with tea so they can go completely plastic free. Again, it's something we've been pioneering for almost five years now, but now the media has put it in the forefront of peoples' minds, it's great. It's been more of a battle than it is now."
Another trend that Birdhouse has been setting since it's opening in January this year, has been the hugely popular monthly Pudding Club. With a Harry Potter-themed night as well as one entirely devoted to chocolate under it's belt, Birdhouse is gearing up for it's next night, and this time it's Star Wars-themed.
When asked what motivated the Pudding Club concept, Rebecca said: "To me, it was obvious. Before us, there were plenty of places to go out and get a burger and a beer after work, but nowhere to go specifically for something sweet. Basically, it's what me and my best friend like to do in the city. We meet up every month for a pudding and a glass of wine; it's a precious moment for us to go out and enjoy great food. I couldn't believe that no one else was doing this kind of thing already. I've never been to a city that does it even, so it wasn't even a stolen concept."
"The great thing about working the local markets for five years is that I've collected a big network of amazing foodies in Sheffield. As part of the networks I've joined and built up over the years since starting Birdhouse, I was able to work with a fantastic local chocolatier, who taught our bakers how to temper chocolate and create different things for our Chocolate pudding club."
Originally, the menu was published so eager pudding fans could get excited for their themed sweet treats. This time around it's all being kept a secret, so there's even more of an element of surprise. On 4 May, lucky diners will also have the opportunity to tailor their pudding experience to their dietary needs. With vegan and gluten-free alternatives available, Birdhouse is happy to cater to your individual needs.
The next instalment couldn't have happened on any other day really. For Star Wars fans, May 4th is a key date in the calendar, and a perfect one for Birdhouse to make special. Without getting too lost in the theme, plans to go full-on with the Star Wars theme are well in motion. "We're trying to avoid making it look or feel like a kids' birthday party – no Stormtrooper photos stuck on top of a bun. It's all about the taste", said Keir, Marketing and Events Coordinator.
Bringing in the chocolate element as well as a selection of cakes and puddings, diners will also be able to pair especially-created themed cocktails with their puds. With choices including Yoda Soda, Darth Maul Latte, Dark Side Espresso Martini and Stormtrooper White Russian, the Star Wars force is strong in this one.
With Friday 4 May's evening fully-booked (the event sold out before the theme was even revealed), plans for June's instalment are well underway. All Rebecca can reveal is that June = Juniper, and we all know you can't make gin without Juniper!
"I love that people are choosing to come to pudding club as a sort of Friday night out, instead of going straight to the pub after work."
So if you missed out on next month's pudding club, you've got plenty of time to get excited for June, or you can just pop in to Birdhouse to enjoy some great pudding anytime. Serving Sheffield Pie-eyed pies from 5pm onwards and offering a choice of cheeseboards from Porter Brook Deli, there are still lots of things to enjoy.
"Evenings are all about sharing, showcasing other businesses, or even for enjoying on your own - where else in Sheffield can you go and do some work, drink some wine, have a coffee and a cake, and be somewhere really cosy, and not feel stupid?" Birdhouse is your answer.
Not forgetting that all cakes and puddings are served into and throughout the evening, Birdhouse wants to offer people a place to come for a cake past 5 o'clock without that pressure of being in a bar with loud music.
"You can sit and talk to each other here and enjoy great food and drink. It's something that Sheffield really didn't have until we opened. If you want to come for a cocktail, you can. If you want to carry on café culture past five o'clock, you can here."
With award-winning tea and a fabulous selection of cakes, puddings, pies, cocktails and coffee, Birdhouse really has everything going on. As the summer months creep in, there are also plans for outdoor seating, which will make the most of the peaceful courtyard that surrounds the two-storey café. A place where everybody is welcome, whether for pudding club or just a space to relax and enjoy a glass of wine and a brownie, Birdhouse Tea Bar and Kitchen is the place to go.
To find out more about the Birdhouse Tea Company, head to its website. To enquire about future pudding clubs, email bookings@birdhouseteacompany.co.uk.