Dining deals every weeknight at OHM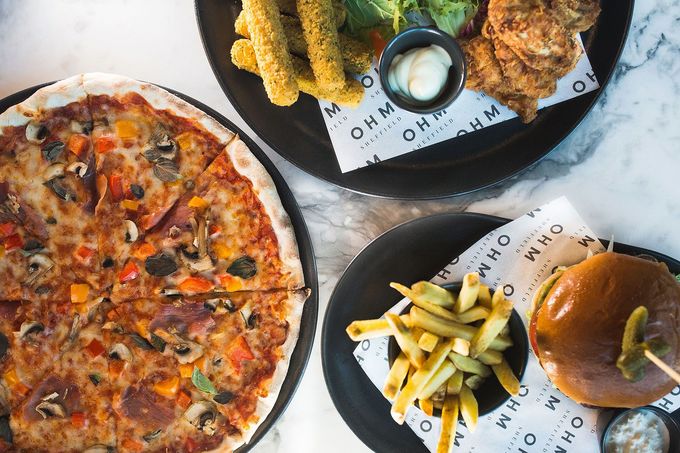 At OHM Sheffield at West One Plaza, Fitzwilliam Street, there's a new dining deal every weeknight – think Craig David's 7 Days, only with delicious food.
At OHM, Mondays aren't for mourning the weekend, they're for enjoying 50% off main courses, all day! Whether you're the Duck and Honey Soy Salad type or the Full Bird of southern fried chicken is more your thing, with 50% off, whatever you choose is likely to get your week off to a great start.
On Tuesdays, burgers take centre stage, with 241 on OHM burgers all day. With pulled pork, chicken and veggie options, OHM take burgers to a whole new level. Try the Stack Burger - an 8oz beef patty, crispy bacon and mature cheddar stacked with a southern fried chicken breast topped with onion rings – if you're up to the challenge.
Wednesday is for pizza, with 241 on OHM's hand pulled 12" pizzas, is there any better way to celebrate hump day than pizza?! With classics like the Papa Pepperoni and Veggie Delight alongside the more unusual Ta Duck - hoisin sauce, mozzarella, shredded duck and cucumber – there's a pizza for all tastes.
As we creep towards the weekend, on Thursdays and Fridays OHM offers two courses for just a tenner. Choose from either a starter and main or main and dessert, and if you're really hungry, you can add a third course for just £2.95. With Halloumi Fingers on the starter menu and Chocolate Marble Cake amongst the dessert choices, it seems like three courses is the only option!
Keep up with OHM Sheffield on Instagram for the latest deals.
Love food and drink? See Alive After 5's foodie section for more.