Betfred World Snooker Championships 2018: Where to eat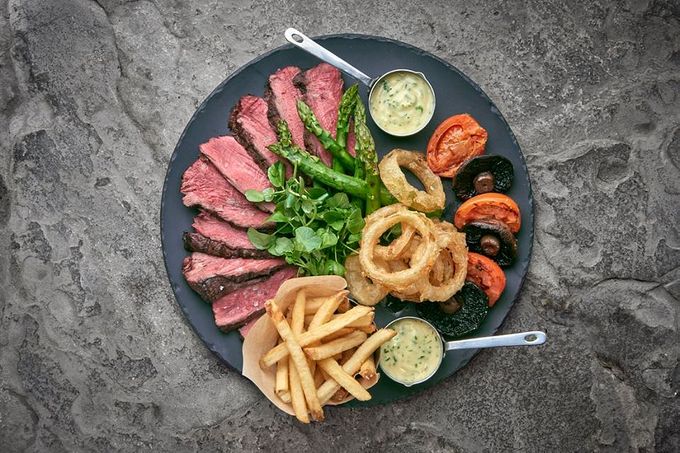 A highlight in the sporting calendar, and one of snookers most significant events, the World Snooker Championships, sponsored by Betfred, relaunches on 21 April. For 17 days snooker's finest will go head to head to be in with the chance of lifting the highly coveted trophy. The Crucible has hosted the internationally renowned championships since its debut in 1977 and will once again open its doors for more unique and intense experiences. With support from Sheffield City Council, the tournament will be broadcast by BBC Sport, and watched by almost 400 million people worldwide.
If you've missed out on tickets to the main event, you'll be able to watch it on the big screen out in Tudor Square throughout the entire tournament. Be sure to see whether Mark Selby can make it a second year in a row as World Champion, or whether John Higgins regains his title for a fourth year.
While you're out in the city relishing in some fantastic sport, why not pop in to one of the many bars, pubs and restaurants a stone's throw away from the iconic Crucible. Below you'll find just a few of the places offering great grub across the championship.
Bill's Restaurant, St. Paul's Place
Pop in to Bill's for breakfast, brunch, lunch or dinner and treat yourself to some fail-safe classic dishes or try something with a modern British twist. Modern, spacious and bursting with fresh seasonal dishes, let Bill's keep you well fed over the Championships. With a set menu offering of two courses for £11.95 or three for £14.95, enjoy great tasting food without the price tag. At just a stone's throw from the Crucible, it'll be hard to put down your ice-cold pint and get back to catch some snooker action!
Browns Brasserie and Bar, St. Pauls Parade
Dine out at one of Sheffield's best loved places to enjoy fab food while watching the world whizz by outside in the beautiful Peace Gardens. For fresh, seasonal dishes, Browns is a must, and during the championships there are plenty of great offers to make use of! As well as breakfast daily from 9am until 12pm, enjoy a two-course lunch or early evening meal for £10.95 (12-7pm). Fill your boots with selected classic cocktails for £4.95 Monday to Friday and ensure you're well fed and watered before and after the snooker events. Why not kick off the tournament on Saturday 21st with Chateaubriand for two to share for just £49.95?
Café Rouge, St. Paul's Place
Sit back and watch the day wash over the Peace Gardens from the warmth of Café Rouge, while chowing down on your Toulouse sausages and mash as part of the French bistro eatery's seasonal set menu. For £12.95 you'll be able to get two courses – add a dessert (we'd go for the Torte au Chocolat) for only for £3.95 more. Also at stumbling distance from the Crucible, you'll be able to grab some great French cuisine before a 2-minute stroll to watch the day's fixtures.
The Graduate, Surrey Street
At £8.95 for a burger and a drink seven days a week, The Graduate definitely has you covered this snooker season. Facing the Crucible, it's a great place to meet your pals and enjoy some great food and drink, without straying too far from the main attraction – the Championships.
Ego Mediterranean Restaurant, Surrey Street
Nestled within the beautiful Winter Gardens, Ego offers the very best in Mediterranean food, wine and cocktails. At less than 20 metres from the Crucible, escape here for a journey through the Med in the form of delicious cocktails (which're 2 for 1 every day until 7pm and two for £12 after that) and some great tasting food and wines. They've got a special set menu which will run throughout the tournament, offering two courses for £12.95 or three for £15.95. They'll have you covered for relaxing after a tense day of matches, while also showcasing one of the most stunning parts of Sheffield.
Piccolino, Millennium Square
Another top choice for unparalleled views of the Peace Gardens, Piccolino is also a great place to enjoy fresh Italian cuisine. With two large all-weather outdoor dining terraces, you'll feel like you're dining in Sicily. This snooker season, customers will be treated to a special set menu, plus a glass of prosecco for snooker fans showing a valid ticket or pass. At two courses for £20, what's not to like? No snooker ticket? Don't sweat - use our exclusive code AA5NOOKER to get your free glass of fizz! 
Head of Steam, Norfolk Street
The destination for savouring the very best in beers, cask ales and alcoholic beverages in general, Head of Steam is ideally placed to catch you after a long day at the Championships. About 20 steps from the Crucible entrance, head here to enjoy some great beers and maybe even grab a bite to eat – the lunch deal, consisting of a sandwich or wrap and a drink for £8.95 (until 5pm) is a perennial and really popular deal. It's also worth noting that Head of Steam accepts CAMRA membership cards, which will give you 20p off any pint of real ale.
Smoke BBQ, St. Paul's Place
A meat-lover's paradise, Smoke BBQ champions everything pit-smoked; from your classic burger and twice-cooked chips, to plates of ribs, pulled pork, turkey leg, barbecue chicken or hot link sausage – they really do love their meat. Grab a pew here to fill up on some quality cooked meats. What's more, they'll have a couple of great deals on while the snooker is on. For £15 you'll be able to get two burgers and fries, or for £20 get yourself a whole roasted chicken and two sides (you'd probably want to share this one).