Tin Soliders to make big noise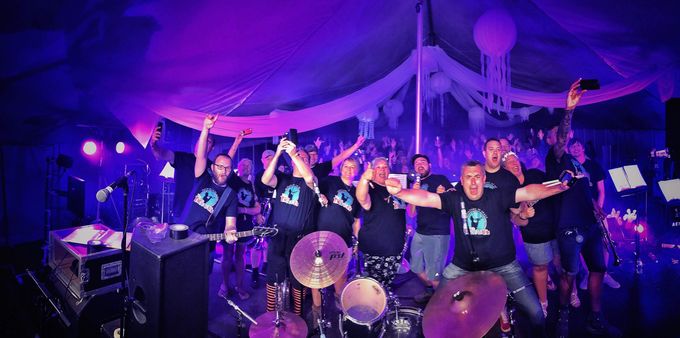 Sheffield's own 20-piece party band the Tin Soldiers is hosting an EP launch party at Genting Casino on Arundel Gate, this Saturday 17 November.
Everything kicks off at 7:30pm in support of the Weston Park Cancer Charity, and everyone is invited.
On the night you'll be able to hear music from the band's new EP "Big Noise", as well as party favourites from its wider repertoire.
The evening will also include performances from Sam O'Hara (former contestant on the hit TV series The Voice), Lindsay Dracass (former backing singer for Paul Carrack and UK Eurovison song contest representative), Sheffield University Swing Dance Society and the legendary Sheffield Jazz pianist Ralph Salt.
Former Human League guitarist Russ Dennett and Lord Major of Sheffield Magid Magid will also be heading down.
Instead of charging an entrance fee to the gig, the band will be collecting for the Weston Park Cancer Charity, and raising vital funds for improving the lives of Sheffield people living with cancer. The group decided to support Weston Park in memory of a sister and band supporter Louise Boot, who accessed the fantastic services the charity provides in her time of need.
"The work that Weston Park do is amazing. We are delighted to be able to support the charity on this special evening. The band have had an amazing year, from recording our first EP, to headlining the Saturday Night Sirens Cove stage at the Y Not Festival. We have performed at a staggering 27 gigs, including various festivals, weddings, hen parties, community events and playing as support at the O2 Academy.

Just last month our first music video "Big Noise", filmed by Pale Raven Pictures, won second prize (voted for by the grand jury) in the 'Two Weeks to Make It' music video competition hosted by the South Yorkshire Film Network.

There are not many opportunities to feel the excitement and power of a live 20-piece funky party band that people can sing and dance to. I think that our recent success is down to our uniqueness, although we comprise of 18 brass, electric bass and drums, we are definitely not your typical brass band." Tin Soldiers band member and promoter James Salt
Find out everything you need to know about the launch party and more here. The band can also be found on Facebook, Twitter and Instagram.