Sofar Sounds: Coming To A Sofa Near You!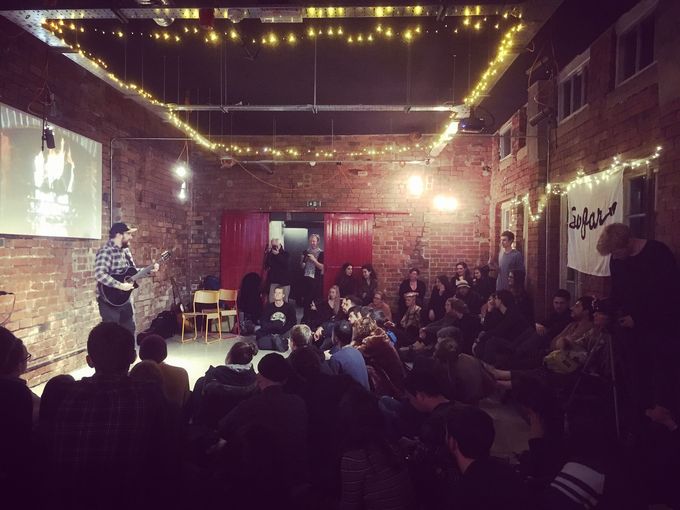 Last night, 99 Mary Street played host to Sofar Sounds, a global movement of intimate gigs organised by music lovers, for music lovers, in top secret venues around the world. From front rooms to galleries, shops and creative spaces, Sheffield's Sofar Sounds events have popped up right across our our fine city. And yesterday, we were lucky enough to pop along to see what this music movement is all about.
Are you sitting comfortably?
When we signed up we were told to bring two things; a cushion to sit on and some booze, so you're guaranteed a comfy seat and there's no queue at the bar. 99 Mary Street set the tone with ambient lighting and we gathered round to listen to four awesome acts.
Listen carefully…
We've all been to a gig were people have pushed to the front and chatted through our favourite song – well there's none of that at Sofar. It was pure silence through each performance, except for when Tom and The Empty Orchestra asked us to join in. Lio (lawyer by day, musician by night) was phenomenal and the Dantevilles upped the ante with a full band to end the night!
How do you sign up?
The bad news was that last night was the last Sofar Sounds of 2016. Sorry, guys! But the good news is that Gina and the Sofar Sounds team will be bringing you lots more secret Sofa Sounds nights in 2017. To sign up, visit www.sofarsounds.com. You'll be alerted to the next event and can apply for your ticket. A minimum donation of £3 for two people is requested but more is always welcome, as every penny goes to AV techs and musicians.