Review: Close Quarters at Crucible Studio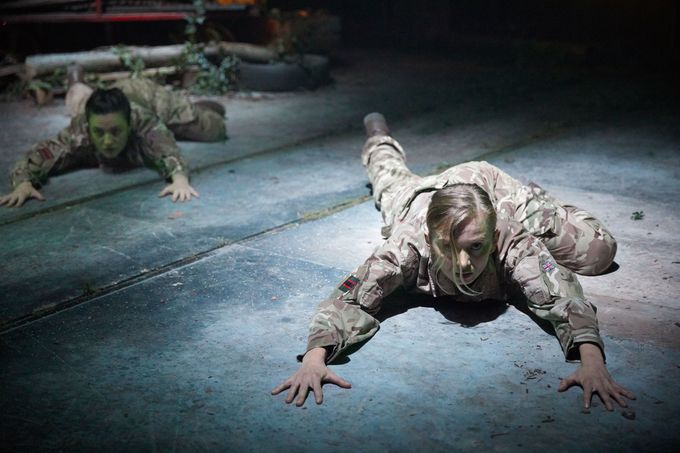 They are the first female soldiers in close combat, and Cormack, Findlay and Davies have got more on their minds than gunshots, traps and decoys. They've got points to prove, bullies to face, and prejudice from the public, their peers, and their superiors.
Written by Kate Bowen and directed by Kate Wasserberg, Close Quarters tells the story of the first three women to serve in close combat roles in the British infantry. On their first tour, the women are sent to a contested border, and as well as drills, playfighting and moonlit missions, face an ongoing fight with themselves and their colleagues about how they fit into their new world.
The soldiers face the obvious jibes and challenges. All three face bullying from their male counterparts, despite each and every soldier passing the same rigorous fitness tests. Lance Corporal Brian Armstrong (Dylan Wood) bunks up with the trio, and though seemingly supportive, shares some of the preconceptions that fuel bullying from others in the battalion.
Bowen also tackles more subtle issues throughout the show. Sergeant John Adeyemi (Bradley Banton) fiercely defends Cormack, Findlay and Davies. First and foremost, he knows they are as good as other soldiers, but his staunch belief in and support for the women may also come from the prejudice he's faced himself as a Black soldier. Captain Anna Sands (Kathryn O'Reilly), a woman herself, believes in the trio for now, but doubts what the future holds.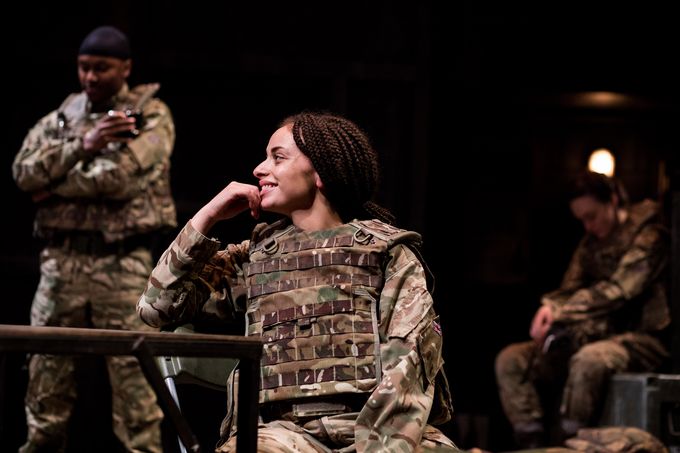 Adiza Shardo, who stepped into the role of Private Sarah Findlay at the very last minute, seamlessly integrated into a show that's intensely physical, precisely choreographed, and relies on a convincing comradeship between the cast. Her ability to carry the story with just a few days rehearsal proved incredible talent, with the entire cast proving its ability to adapt to change that the army must look for in its soldiers. 
Close Quarters is not a show that finishes with a happy ending, female soldiers standing shoulder to shoulder with their male colleagues, receiving the same esteem and respect from their peers and the public.
Close Quarters isn't about that. It's a play that explores the ongoing battle women, both soldiers and civilians, face every day. Close Quarters throws a grenade at the topic of gender and the army and leaves tales of friendships, relationships, the past, and the future as shrapnel across the Studio's stage.
Close Quarters is on at the Crucible Studio until Saturday 10 November. Get tickets at www.sheffieldtheatres.co.uk.