No Bounds festival returns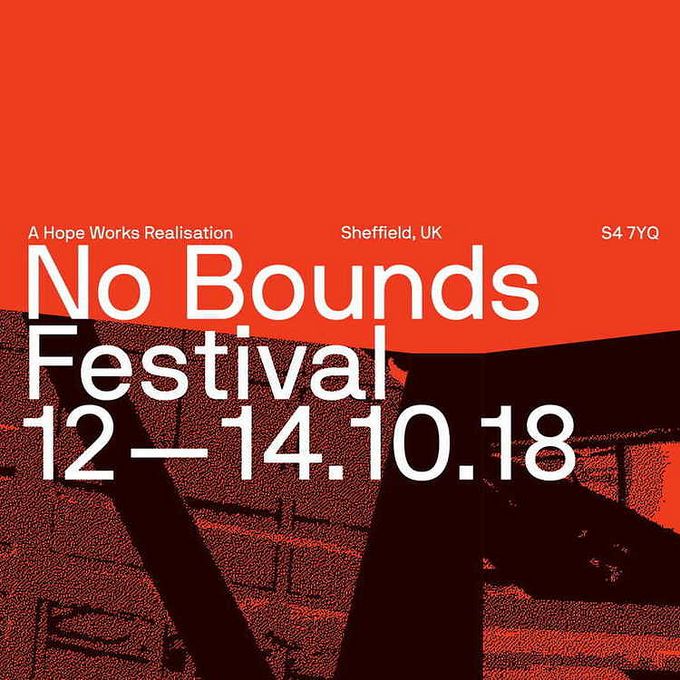 As the city-wide festival returns to Sheffield from 12-14 October, we thought we'd give you the low-down on what to expect from No Bounds: the art, music and technology festival kicking off on Friday with a 12-hour gig.
Showcasing a broad spectrum of artists and performers from all sorts of genres for a weekend of live music, DJ sets, talks and workshops, No Bounds is back, and it's ready to rave.
Firstly, it's got a fresh new line-up of performers including Dillinja, Klein, Adrian Sherwood, Nyege Nyege featuring Sounds of Sisso and Kampire, Rob Gordon, Winston Hazel, Theo Burt, Kerrie, Broken FM, Sheffield Techno Institute and Linnemann.
Secondly, its talks programme (which has been overseen by Joe Muggs from The Wire) will visit topics posing alternative approaches to music art and culture as a source of growth.
Did we mention that Sheffield's Lord Mayor Magid Magid will also be speaking? He'll be discussing the topic of 'hybrid Britain', exploring the ways in which waves of immigration have made British culture richer, focussing primarily on the bass/soundsystem culture.
In addition, producer and sound artist Mark Fell will be doing a Q&A session on his work 'Out of Chaos'. He's also co-curated Saturday's daytime programme at Trafalgar Warehouse with FACT magazine.
Ian Anderson of Sheffield-based design agency Design Republic will present a talk called 'Join The Future', on the ways in which the agency, which has worked closely with Aphex Twin, Autechre and Warp Records has done just that. 'Gatekeepers', a panel debate will be hosted by Mike Paradnis, Meemo Comma and Iseoluwa.
On top of all this, there'll also be a series of film screenings throughout the festival. Warp Records will have its very own 'screening section', which will feature a film by Bibio called 'Phantom Brickworks' and Mark Pritchard and Jonathan Zawada's film 'The Four Worlds'. Sheffield Doc Fest will also host a screening of Jake Meginsky's documentary on free jazz drummer Milford Graves – 'Full Mantis', followed by a Q&A with the director.
A weekend packed with events designed to push the boundaries of art and culture, No Bounds festival is like no other. For the full programme of events and line-ups for gigs across the weekend, head to www.noboundsfestival.co.uk.
Don't miss
Exhibition: Memory Dance, Foodhall
Friday 6-11pm, Saturday 11am-11pm, Sunday 12-8pm
Archive screenings running across the weekend including 'Trades & Crafts', 'Free For All' and Warp video content.
Live Coding Workshop, Access Space Labs
Saturday 13 October 1:30-3pm
Tidal, presented by Alex McLean
DJ Workshop: Intervention, 99 Mary Street
Saturday 13 October 2:30-4pm
Female/non-binary DJ workshop delivered by Ifeoluwa.
Interview with the Lord Mayor, Trafalgar Warehouse/FACT stage
Saturday 13 October 3-4pm
'Hybrid Britain': Magid Magid will discuss opportunity, multiculturalism and music in the UK.
Curated by Mark Fell, Trafalgar Warehouse/FACT stage
Saturday 13 October 4-11pm
Adrian Sherwood (live) + Nick Cope (live scratch
video)
Klein (live AV)
Sarah Davachi (live)
Sounds Of Sisso (live)
Rian Treanor + Nakul Krishnamurthy (live)
Theo Burt (live)
Wanda Group (live)
Ralph Dartford's Sunday Service, The Holt
Sunday 14 October 11am-1pm
Poetry from Rachel Bower, Ruth Odudu, EMJ Morris, Matt McAteer and Ralph Dartford.
Screening and Q&A: Sheffield Doc Fest x No Bounds special screening of Jake Meginsky's 'Full Mantis', The Holt
Sunday 14 October 7:15-9:45pm
Documentary on free jazz drummer Milford Graves.
Festival Closing Party, Foodhall
Sunday 14 October 6pm-12am
Lo Shea and Chris Duckenfield
Kerrie (Live)
STI
Linnemann
Broken FM (Live)
Proteus
Stay in the loop. Follow No Bounds on Twitter, Instagram and Facebook.