Get 'Closer' with Day One theatre company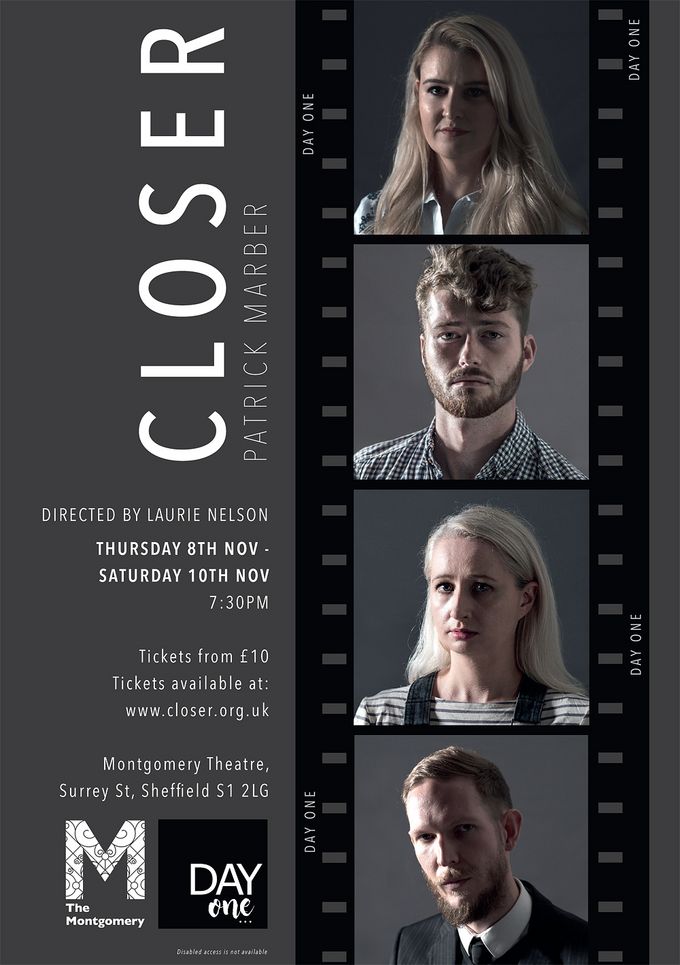 Popular Sheffield theatre company, Day One, is returning to The Montgomery's stage next month, with the critically-acclaimed hit 'Closer' by Patrick Marber.
Catch 'Closer' at the Montgomery Theatre from 8-10 November. Find your tickets here.
This is not a love story.
'Closer' follows four people through life as they experience love, lust and blurred lines that arise between the two. It's a powerful and darkly funny play that aims to dissect the highs and lows of relationships, revealing how honesty isn't always the best policy.
Day One's production of the iconic play sees director Laurie Nelson return, having directed the company's sell-out performance of 'No Exit' at the Montgomery Theatre back in 2017.
"We decided to perform at The Montgomery Theatre again for 'Closer'." Explains Day One co-founder and actress, Jade Strain, "The venue suited the dark, dramatic style of 'No Exit' and it will be the same for 'Closer'. We like our audience to feel as close as possible to the production and be immersed into the tension."
First performed at the Royal National Theatre in 1997, the play won the Laurence Olivier Award for Best New Play in 1998. It's playwright Patrick Marber's second original play, and has been performed worldwide.
'Closer' may sound a bit familiar as back in 2004 it was adapated for the silver screen, and starred Julia Roberts, Jude Law, Natalie Portman and Clive Owen – it was nominated for two Academy Awards!
'Closer' runs from Thursday 8 to Saturday 10 November at The Montgomery theatre. Tickets are priced from £10 and are available at www.closer.org.uk.