Get closer to the music at the Sheffield Chamber Music Festival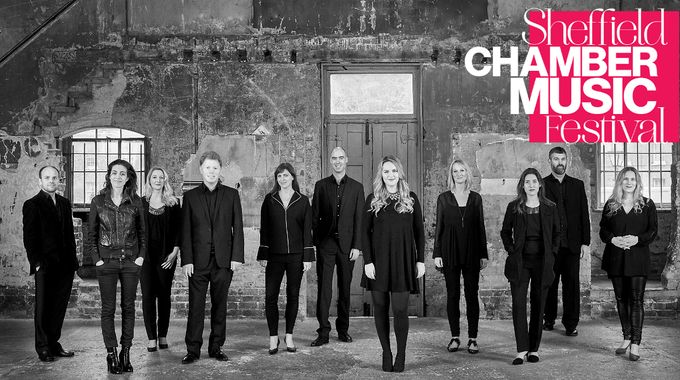 Music in the Round launches Sheffield Chamber Music Festival in the city on 11 May, with more great music and more guest artists than ever before. The Crucible Studio Theatre will play host to numerous performances, and offer a unique listening experience, as audiences sit 'in-the-round' just a few feet from performers.
Getting physically closer to the music, the Sheffield Chamber Music Festival also offers plenty of opportunity for audiences to better connect with chamber music itself. This year's festival takes inspiration from harmony and will feature over 25 concerts across nine days.
With performances from resident chamber group Ensemble 360, resident singer Roderick Williams and guests including harpist Catrin Finch, Seckou Keita, pianist Peter Hill and Professor Marcus du Sautoy, there'll be plenty of music to get lost in.
Strapped for cash but still want to get involved? There will also be a collection of free concerts in the Winter Garden in partnership with Classical Sheffield. Find all the details on what's on and where a during the nine-day festival at the Music in the Round website.
Music in the Round is based in Sheffield and is the UK's leading promoter of chamber music outside of London. It's driven by the belief that music has the power to change and enrich people's lives, and it aims to thrill diverse audiences with the unique intensity of performances in an intimate setting.
Find our hot picks for the festival below and book your tickets to performances that will ignite admiration and intrigue into the chamber music genre.
For all bookings, head to www. musicintheround.co.uk or call 01142496000. All ticket prices are shown in the order: General admission/Disabled and Unemployed/Students and under 35s.
Opening Night Double Bill: Ensemble 360 & Roderick Williams, Crucible Studio, 11 May, 7:15pm & 8:45pm, £14 / £10 / £5
To kick off the festival in style, Ensemble 360 will perform Mahler's Piano Quartet in A minor and Wagner's Siegfried Idyll. Joining them, Roderick Williams will then perform Mahler's Lieder eines Fahrenden Gesellen. The second half will see Williams perform the final instalment of his Schubert song cycle Schwanengesang with pianist Iain Burnside.
Soar: Catrin Finch & Seckou Keita, Crucible Studio, 15 May, 7:30pm, £20 / £14 / £5
Catch one of the UK's leading harpists Catrin Finch join internationally renowned Senegalese kora player Seckou Keita as they play in-the-round to celebrate the launch of their second collaborative album, Soar. Catrin and Seckou transform their own diverse traditions with remarkable synergy.
The Numbers Game: Ensemble 360, Crucible Studio, 17 May, 7pm, £14 / £10 / £5
(Pre-concert talk: THE GOLDBERG VARIATIONS / 5.45 – 6.15pm, Crucible Studio Theatre. Free to all evening concert ticket holders.)
Ensemble 360 perform BACH Trio Sonata from The Musical Offering BWV 1079, MESSIAEN Île de feu 2 (from Quatre études de rythme) for solo piano and BARTOK String Quartet No.4. Marcus du Sautoy will introduce these remarkable pieces and reveal the mathematical secrets that lie within them.
Goldberg: Peter Hill, Crucible Studio, 17 May, 8:30pm, £14 / £10 / £5
(Pre-concert talk: THE GOLDBERG VARIATIONS / 5.45 – 6.15pm, Crucible Studio Theatre. Free to all evening concert ticket holders.)
BACH Goldberg Variations BWV 988
Hear some of Peter Hill's Bach recordings in the intimacy of the Crucible Studio and marvel at the uniqueness of each movement and how each somehow fits together naturally.
Celestial Harmony: Ensemble 360, Crucible Studio, 18 May, 7:15pm, £20 / £14 / £5
MOZART Flute Quartet No.3 in C K.285b
MOZART Horn Quintet in E flat K.407
MOZART String Quintet in G minor K.516
The second of three concerts in celebration of Mozart, hear Ensemble 360 present his String Quintet in G minor.
Man with a Movie Camera: Laurène Durantel, Showroom Cinema, 7:30pm £10 / £6 / £5
As part of the Yorkshire Silent Film Festival, see Laurène Durantel revisit her wonderful improvised accompaniment to the acclaimed film Man With a Movie Camera. Part documentary and part cinematic art, the film follows city life in the Soviet Union through the course of a single day.