Football coming home to Sheffield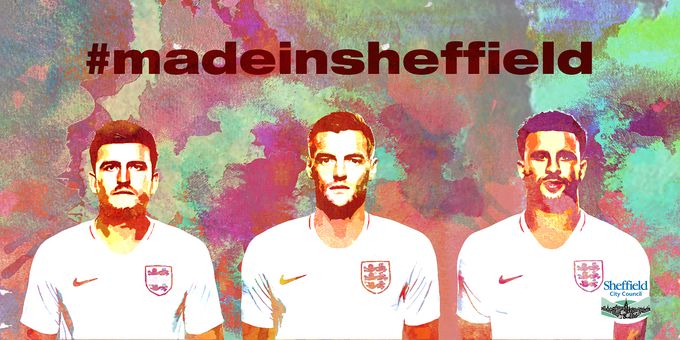 As you're probably already very aware, tomorrow's World Cup semi-final match between England and Croatia is set to be watched, scrutinized and enjoyed by a fair few people across the entirety of the UK.
In Sheffield, the city centre will become home to the Made In Sheffield fan zone, inspired by Sheffield's very own three lions – Harry Maguire, Kyle Walker and Jamie Vardy.
A huge 46 square-metre screen will show the eagerly-anticipated match on Devonshire Green from 5:30pm until 9:30pm (may be extended due to extra time and penalties). The match will be shown live from ITV from 6pm until conclusion.
While many other city centre venues will also be showing the match, this showing is set to be a little less intimate.
Organisers are expecting a turn-out of around 6,000 football fans – all eager to watch what many are calling England's biggest match since the Italia '90 semi-final against West Germany.
Having just recovered from last weekend's Cliffhanger event, Devonshire Green will become the city destination for England supporters to come together and celebrate the success the England team have achieved in reaching the semi-finals, and to show pride in Sheffield's part in creating players that're now representing the nation.
Mary Lea, cabinet member for culture, parks and leisure at Sheffield City Council, said: "Sheffield is the home of football and in Sheffield FC, boasts the oldest club in the world so it's fitting that three of our great sporting ambassadors are at the heart of it. Our fan zone at Devonshire Green on Wednesday will clearly be the place to be as we continue this remarkable sporting journey. For Sheffield it really is coming home."
Following an agreement with local bar owners, the council has agreed that there will be one bar as part of the event on Devonshire Green.
Why not make a night of it? Head into the city centre early to grab a bite from one of Sheffield's finest food outlets (we hear Subway on Devonshire Green is offering a foot-long Sub and drink for £5), or maybe even enjoy a couple of pints in one of the city's many watering holes, before parking yourself in front of the action on Devonshire Green.
Don't fancy catching the match on Dev Green? There are still plenty of other places in the city showing the match.
On site there will be zero tolerance of any glass. Plastic glasses will be provided where possible, however fans are encouraged to bring along their own plastic cups where possible.
The event will be treated the same as any other licensed event and a full safety plan will be implemented, which includes stewarding, First Aid and toilets, in consultation with South Yorkshire Police.