Festival of the Mind: Alive After Five picks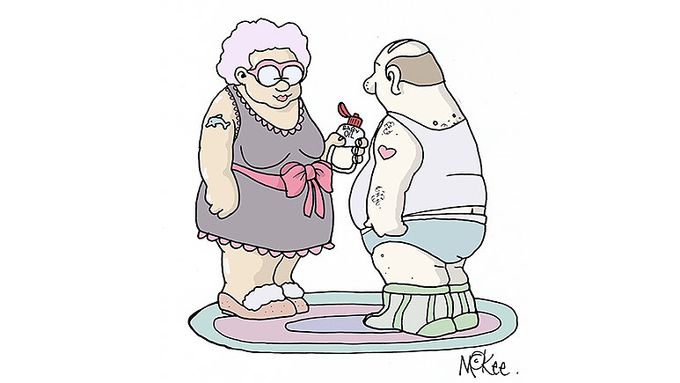 The city-wide festival celebrating science, art, engineering and culture is back, and we don't want you to miss out. This year, the Festival of the Mind has loads of fantastic talks, gigs and exhibitions from some of the UK and Sheffield's most passionate experts lined up. Read on to see our after hours picks of the fesitval - what could you be up to for the next ten days?
Untameable talk, Spiegeltent, Barkers Pool, 20 September, 5pm, Free
This talk draws from Barry Hines' archive at the University of Sheffield's Special Collections, and reflects on a number of Hines' key works, including 'A Kestrel for a Knave', nuclear war film 'Threads', 'Unfinished Business' and his tale of youth unemployment in Sheffield, 'Looks and Smiles'. This talk accompanies the 'Untameable' art installations and film screenings.
Gin & Jazz, Spiegeltent, Barkers Pool, 20 Septemeber, 7:30pm, Free
As one of a handful of the festival's 'Spiegeltent at Night' events, expect a mini gin festival on Thursday: try various different gins paired with specific tonics and garnishes. Experts will also be on hand to guide you through the world of gin. Live music will be courtesy of Bad Brew.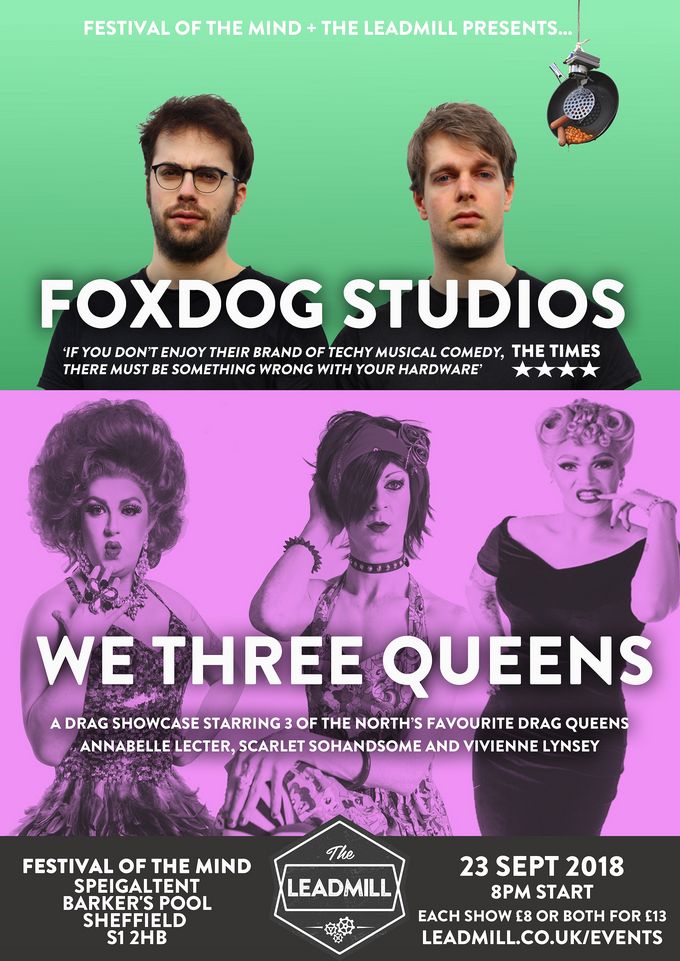 Leadmill Comedy Club Presents a Double Bill: Foxdog Studios: Robot Chef and We 3 Queens, Spiegeltent, Barkers Pool, 23 September, 7:30pm
Gifting you with a double-bill of laughs as part of the festival, Leadmill Comedy Club has lined up some pretty stellar acts this year. First up is 'Foxdog Studios', bringing their unique brand of techy comedy to the Spiegeltent. They actually draw their own characters and control them through augmented reality(!). After a quick break, 'We Three Queens' (three of the UK's hottest new drag queens: Annabel Lecter, Vivienne Lynsey and Scarlet Sohandsome) will administer a whole hour of camp cabaret. Pick up your tickets to both shows here.
Mountain, Priest, Son, Spiegeltent, Barkers Pool, 24 September, 5pm, Free
Watch this short inspirational documentary on the metaphysics and morality of risk in the face of socio-environmental change. Set in the Himalayan valley of Kedarnath, University of Sheffield PhD student Vaibhav Kaul teamed up with Sheffield-based artist John Seddon to make this short ethnographic documentary about everyday life, beliefs and hopes.
The Labyrinths of Sheffield talk, Spiegeltent, Barkers Pool, 25 September, 5pm, Free
Join academics, creative partners and community groups as they present a talk recounting the journey involved in producing three walking labyrinths in Sheffield for the festival.
Mirrors and Ribbons: Reflections on Female Form in the Circus, Sheffield Cathedral, 25 September, 7pm, Free
Experience this narrative-based aerial theatre combining text, projections and physical theatre. It's all drawn together using psychological research into perceptions of women's body image and historical circus context, and is a collaboration between psychology PhD student Sandy Belle Rosales Cadena, circus theatre performer Claire Crook and head of the National Fairground and Circus Archive and Digital Humanities, Angela Haighton. Professor Vanessa Toulmin will also be giving a talk on the history of women in circus.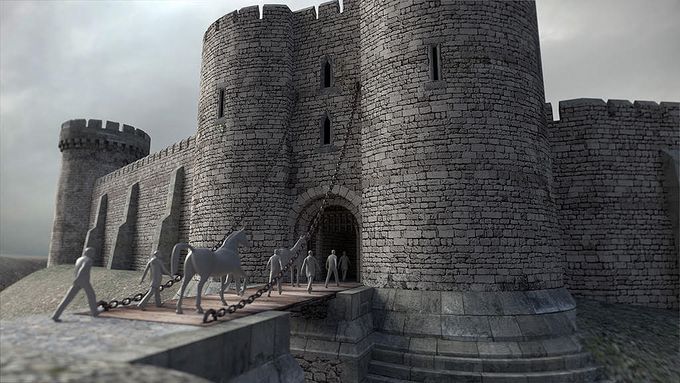 Experience Castlegate, Millennium Gallery, 26 September, 10am-8pm, Free
Using an augmented reality model, experience Sheffield's very own castle, using recent archaeological research from academics in Archaeology, Architecture and Computer Science at the University of Sheffield.
The Age of Love exhibition, Art House, 26 September, 10am-8pm, Free
See Pete McKee and Dr Sharron Hinchliff's exhibition exploring older adult relationships, love and intimacy: 'Sex isn't just for the young.' See how research disproves social attitudes towards sex and intimacy as you grow older – make sure to book a time slot (can be done in person at Art House, 8 Backfields) to avoid disappointment, this one's going to be popular.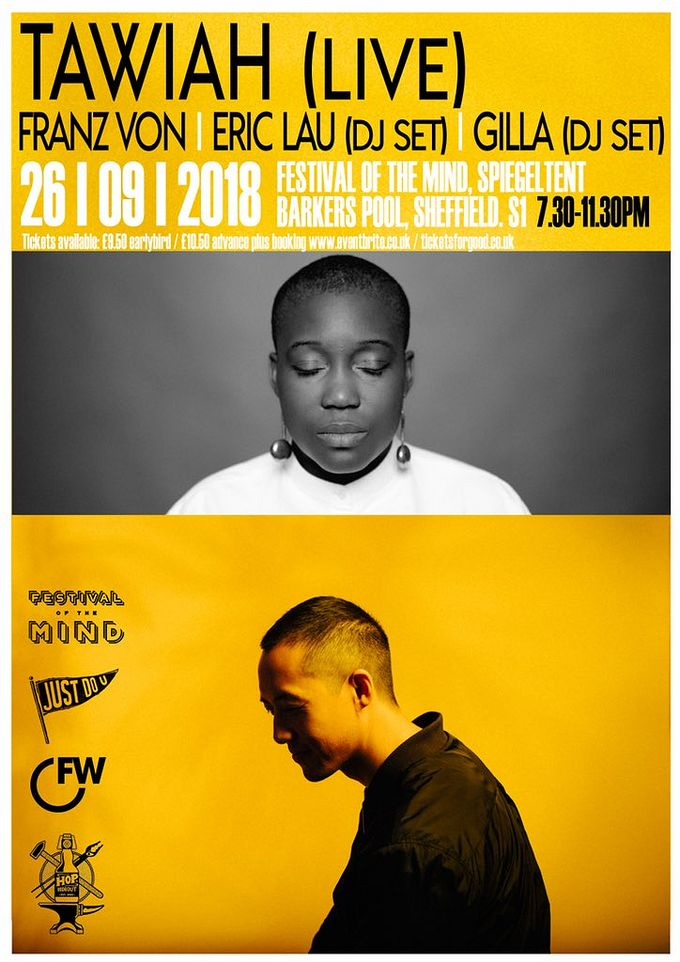 Spiegeltent At Night: Just Do U & Hop Hideout: Tawiah live, Barkers Pool, 26 September, 7:30pm, £11.55 (Advance)
One of the UK's finest vocalists in new-wave soul and jazz, Tawiah will be sharing her new electronica-infused soul and jazz project in the mesmerizing backdrop of the Spiegeltent. Eric Lau will also be on the decks, as well as DJ Gilla, of First World Records and regular presenter on Worldwide FM. Yorkshire-based artist Abi Anderson will also be live painting throughout the night. Latecomer to the lineup and Sheffielder Franz Von (known best for his work with K.O.G. & The Zongo Brigade) will also be in the tent ready to start the party. Get your tickets here.
Sheffield Makes Music, citywide, 28 September, 1pm 'til late
Celebrating the abundance of talent in the city of Sheffield, 'Sheffield Makes Music' is part of the national celebration of BBC Music Day. BBC 6 Music's Steve Lamacq will be broadcasting his drivetime show live from the Spiegeltent, plus there'll be a series of acoustic performances, including opera on the Town Hall steps, as well as brass, strings and voices in the pop-up band stand in St. Paul's Place. Click here to see the full programme of performances happening in and around the city (including the train station, Bear Tree Records, Tamper, Forum, The Leadmill, John Lewis, Delicious Clam, Frog and Parrot, The Great Gatsby and the Green Room) throughout the day.
To find out more about the festival and to get planning, head to the Festival of the Mind website – it's also on Twitter, Facebook and Instagram.