Dine & Discover Sheffield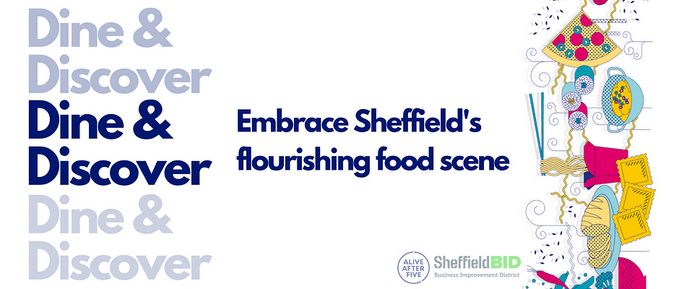 Get those taste buds ready for a new, exciting and mouth-watering campaign from the Alive After Five team!
Launching next month, Dine & Discover will have you discovering (pardon the pun) that there's more to Sheffield when it comes to going out for tea.
Dine & Discover will shine a spotlight on some of the city's finest eateries, showcasing its vibrant and flourishing dining scene.
Following the success of Dine Sheffield, the city's restaurant fortnight celebrating all things food in the city, Dine & Discover will concentrate on a different restaurant every month, throughout the year.
Diane Jarvis, Sheffield BID Manager, said: "Following the success of our first two Dine Sheffield events, we know the people of Sheffield have a real appetite for getting out there and discovering the city's restaurant scene.
"Dine & Discover will allow the public to try a restaurant that haven't visited before, or try something different at one of their favourite spots in the city. We hope Dine & Discover gives Sheffield's dining scene a boost, and encourages more people to travel into the city centre for a meal out."
Each month, a local restaurant will play host to an exclusive (and interactive) event, which'll get you trying something new, and give you a flavour of just what it's all about.
Throughout that month, you'll also have access to exclusive Dine & Discover offers - saving you money while also getting you eating out at places you wouldn't usually visit. We're all about escaping comfort zones here at Alive After Five!
If this has gotten you hungry for more, stay tuned, as we'll be announcing the first restaurant of the campaign very soon – we're so excited to get you discovering the true gems that Sheffield has to offer when eating out!
Eating out next month? Use #DineAndDiscover to stay in the loop and to share your pictures of discovering dining in Sheffield city centre.